On May 26, 2023, China Merchants Energy Shipping signed two construction contracts for two 175,000 m3 large LNG carriers and two 115,000 dwt Aframax crude tankers with Dalian Shipbuilding Industry and China Shipbuilding Trading.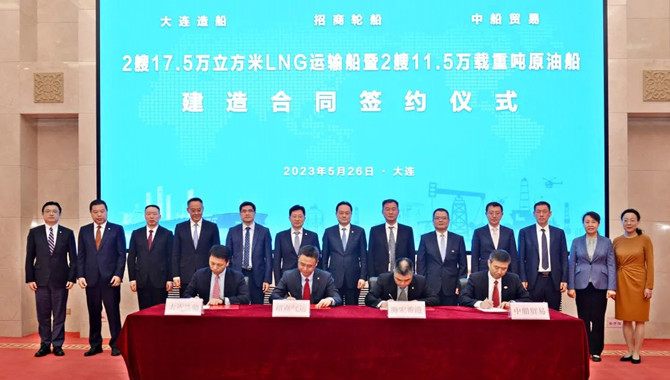 The LNG carrier signed this time has a total length of 299.7 meters, a molded width of 46 meters, a molded depth of 26.2 meters, a design draft of 11.5 meters, a design service speed of 19.5 knots, and a total cargo capacity of 175,000 m3.
The 115,000 dwt crude tanker signed this time is a new Aframax ship independently developed by DSIC and tailored to meet the needs of PetroChina International. It has excellent safety, energy saving, environmental protection and portability.
CMES cooperates with DSIC to respond to the trend of green, digital and intelligent development in the new era. This signing will further consolidate and deepen the cooperative relationship between the two parties and promote the high-quality development of both parties.
By Xinde Marine News Sarah Yu
The opinions expressed herein are the author's and not necessarily those of The Xinde Marine News.
Please Contact Us at: