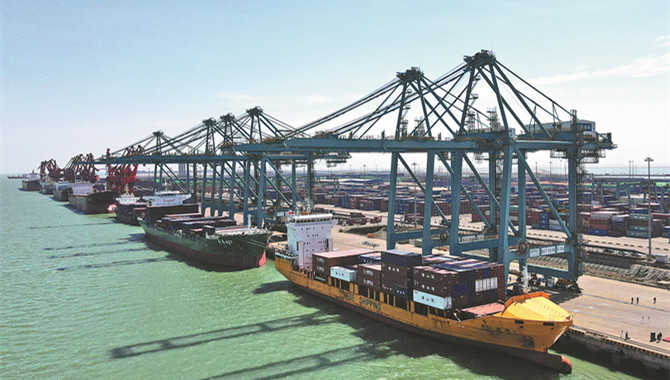 [PHOTO by FU XINCHUN/FOR CHINA DAILY]

Experts highlight its supportive role in regional development, global trade Boasting geographical advantages by being located near Bohai Bay, Cangzhou — home to Huanghua Port in Hebei province — is expected to gain more popularity among global port cities given its increasing role and efforts in boosting global trade, bringing more benefits to the development of the industrial clusters nearby, said experts at a recent forum held in the North China coastal city.

The comments were made during the Bohai Rim (Cangzhou)-Gulf Cooperation Forum co-hosted by the Cangzhou municipal government and Xinhua News Agency's web portal Xinhuanet on Saturday.

Cangzhou, with its advantageous geographical location, has vigorously promoted its development in recent years. The city will take the forum as an opportunity to further enhance its ties with global partners, especially those in the Gulf region, in not only trade but industry, culture and technologies, Kang Yanmin, Party secretary of Cangzhou, said at the forum.

Themed the "dual-circle" development paradigm, cooperation with Arabian Gulf ports and the future development of the Bohai Rim, the forum was attended by more than 300 representatives, including delegates from Gulf countries such as Saudi Arabia and the United Arab Emirates, officials from relevant national ministries, commissions, and Bohai Rim cities, and leaders in various industries including port transportation, chemicals, logistics and cross-border e-commerce.

"Cangzhou's Huanghua Port will play a bigger role in promoting the coordinated development of the regional economy and building a modern industrial system," said Dong Mingdi, Party secretary of Huanghua, a county-level city in Cangzhou.

Located along northern China's Bohai Sea, Huanghua Port is one of China's largest ports for coal transportation. The port has been ramping up efforts for diversified growth and a bigger role among its global peers, with the opening of a new foreign trade container route in October 2022, according to the local government.

On May 11, during an inspection tour to Hebei, President Xi Jinping visited a coal port area of Huanghua Port and noted the unique location advantages and convenient shipping conditions of the province, underscoring the need to upgrade Hebei's ports and optimize their functional layout to play a bigger role in promoting coordinated regional economic development and developing a modern industrial system.

Xi also urged the development of Huanghua Port into a modern hub port with multiple functions.

Referring to the development path of Huanghua Port, Wang Baohui, board chairman of Cangzhou Port Group Co, which manages the port, said, "We are now transforming the port from a professional port into a comprehensive one."

"In order to speed up the pace of the port's transformation and upgrading, we will make every effort to promote the construction of infrastructure, including docks, berths, channels and pipe corridors," said Liu Chunfeng, vice-general manager of the group's Canggang Construction Co Ltd.

Liu added that efforts will also be accelerated for the faster construction of specialized docks for crude oil, containers and liquefied natural gas, or LNG, as well as oil pipelines and special railway lines.

"We have planned seven railway branch lines inside the port, which will help realize the connection between the port's docks and main railway lines outside the port," Wang said.

By the end of the 14th Five-Year Plan (2021-25), the number of berths in the port will double to 83, and that of domestic and foreign trade routes to 40, Dong said.

Aiming at the burgeoning opportunities arising from the economic and trade cooperation in the Bohai Bay, the forum saw 56 cooperation results with a total investment of 35.5 billion yuan ($5.04 billion) achieved through preliminary contacts and negotiations, Kang said.

Among the results, agreements for 12 projects were inked at a ceremony during the event, covering various areas such as port businesses, green chemicals, equipment manufacturing, e-commerce, logistic, and new energy.

Shen Jiangying, president of Xinhuanet, said at the forum that the forum will give Bohai Rim cities and peers in the Gulf region an excellent opportunity to upgrade port-to-port shipping, industry and ecological development, and that "a development pattern of coast-inland win-win operation is around the corner".

According to the Cangzhou government, during the 2021-25 period, Huanghua Port will open the domestic trade routes to Ningbo Zhoushan Port, Xiamen Port, Qingdao Port and Shenzhen Port, and international routes to countries and regions including the Republic of Korea, Japan, Germany and Southeast Asia.
Source:
China Daily
The opinions expressed herein are the author's and not necessarily those of The Xinde Marine News.
Please Contact Us at: