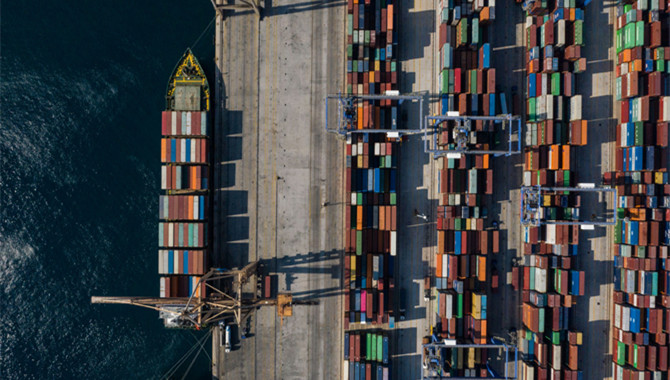 Aerial photo taken on Sept 6, 2019 shows the Piraeus port in Greece. [Photo/Xinhua]

ATHENS — Years of win-win cooperation between China and Greece's largest port Piraeus have proved to be an exemplary case of common development, top managers and employees of the landmark investment project said.

Sino-Greek cooperation has drastically enhanced the container throughput of Piraeus port and brought significant benefits to the Greek economy and the local community.

In 2010, Piraeus Container Terminal SA, a subsidiary of China's COSCO Shipping, took over the management of two terminals in the port. Six years later, COSCO acquired a majority stake in Piraeus Port Authority, or PPA.

Through win-win cooperation, Piraeus port has now taken a leading position in terms of container throughput and has become the largest ferry port and the third-largest cruise port in the European region, Yu Zenggang, executive chairman of the PPA, said.

Since cooperation with the Chinese side began, Piraeus port has seen dramatic growth in container throughput. The port has maintained an annual operating container throughput of over 5 million twenty-foot equivalent units, or TEUs, in recent years, up from 0.88 million TEUs back in 2010.

Nektarios Demenopoulos, who has been with the PPA since 2006 and now serves as its public and investor relations deputy manager, said significant changes have taken place at the port after cooperation with China started.

"Big investments have been implemented in all business activities. There is a huge development in the container business, and upon privatization agreement with the Greek government, there are still a lot of investments to be made," he said.

Demenopoulos said the majority of employees come from Piraeus and surrounding municipalities. "It has been estimated that every working position created in the port creates an additional three new indirect working positions for supplementary activities," he said.

"So for sure, this is a very big contribution of the Piraeus port authority to the local society and national economy."

Antonis Apergis has been working at the PPA for 11 years. As a local resident of Piraeus, he sees the port project as an exemplary case of win-win cooperation.

"The company has helped the wider region a lot because if we recall, it (the investment) started in a very difficult period for Greece (during the debt crisis)," Apergis said.

With investment from China, new jobs were created and this gave a very big boost to the port's surrounding areas, he said.

"On the other hand, if you look at the geographical location of the port, it gives a strategic, let's say, competitive advantage in the specific sector. And let's not forget that the port became one of the largest in the whole world, so both Greece as a country and the company have gained," he said.
Source:
China Daily
The opinions expressed herein are the author's and not necessarily those of The Xinde Marine News.
Please Contact Us at: