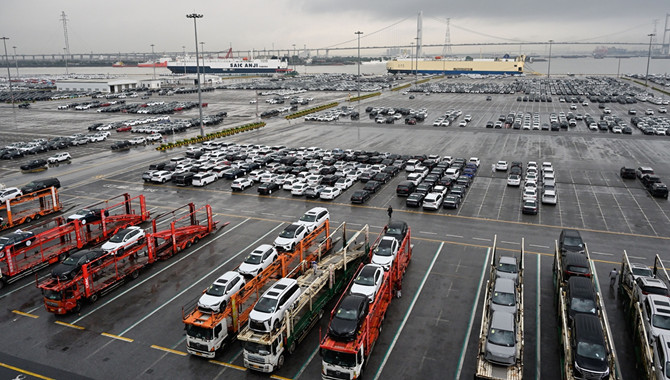 Rows of cars wait in a depot before being exported at the Nansha Automobile Port in Guangzhou, South China's Guangdong Province on April 19, 2023. Photo: Chen Tao/GT
The world's largest trading nation already has the world's largest merchant fleet to transport its goods, but it still lacks a special type of vessel - known as a ro-ro - to match its newfound strength in the emerging field of vehicle exports, industry insiders told the Global Times.
Due to a confluence of factors, China's car exports exploded during the past three years. In 2022, the country exported some 3.11 million cars, compared with 2 million in 2021 and 1 million in 2020.
However, a lack of roll on, roll off (ro-ro) vessels is keeping the export figure from going up even higher, industry insiders said, with some even describing the issue as a stranglehold.
Chinese auto brands have orders, but lack of enough transport capacity, Zhang Zhanhao, operational director of COSCO Shipping Car Carriers, a leading car shipping company in China, told the Global Times on Wednesday.
Some 50 percent of the transport capacity is owned and controlled by companies from Japan and South Korea, two traditional major players in the global car export market, according to Zhang.
"As these companies prioritize the shipment of their own countries' car exports, new demands from China could not be guaranteed in terms of transport capacity," Zhang said.
Bullish on the fast growth of the market, Zhang said his company has ordered 24 new ro-ro vessels, which are expected to enter service by the second half of 2024.
"By then, we will have a fleet of roughly 30 ro-ro vessels capable of shipping 700,000 cars abroad annually," Zhang said.
International ro-ro transport capacity has stayed relatively unchanged since 2018, while in this period China overtook Germany to become the world's second-largest vehicle exporter, industry experts said, noting a lack of global ro-ro capacity caused by the sudden Chinese success in auto exports.
The market is white hot, and the freight rate has shot up by 800 percent in three years, according to media reports.
China's car export binge is expected to continue. Per the estimate of the China Association of Automobile Manufacturers, an industry body, China will see a 20 percent increase in car exports in 2023.
Many think that China has a fair chance of overtaking Japan to become the world's largest car exporter this year.
Yang Anning, a manager with the Business Development Department of Nansha Automobile Port, told the Global Times on Wednesday that car exports tripled year-on-year in 2022.
In the first quarter, the Nansha Automobile Port, run by the Port of Guangzhou, the world's fifth-largest port, saw car exports rise by 143 percent to 44,000, according to domestic financial news portal 21jingji.com. New-energy vehicle (NEV) exports expanded by 40 times and exceeded the full-year figure of 2022.
"To cope, we have increased the number of berths used for exports to five from three earlier," Yang said.
The Nansha Automobile Port, at the mouth of the Pearl River, has become the largest cluster of terminals for ro-ro vessels for wheeled cargo in South China.
As Chinese carriers and auto brands including NEV maker BYD place more orders for such ships, Chinese shipbuilders have benefited, breaking the Japanese and South Korean monopoly of pure car and truck carrier (PCTC), or ro-ro, construction, thanks to the nation's booming car exports.
Shipbuilding giant China Shipbuilding Trading Co said it had 22 new orders for PCTCs in a statement on March 10, ranking No.1 worldwide.
Source:
Global Times
The opinions expressed herein are the author's and not necessarily those of The Xinde Marine News.
Please Contact Us at: