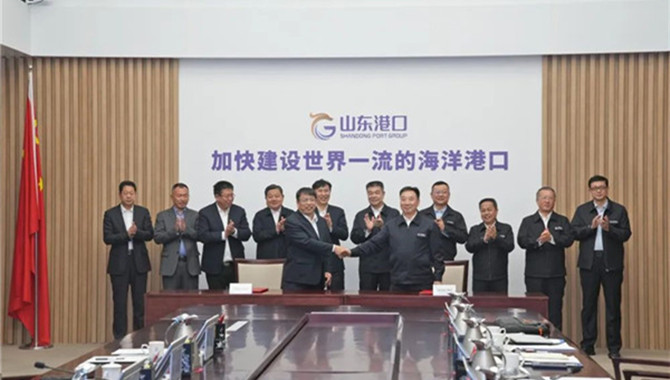 Shandong Port Group (SPG) and Hebei Port Group (HPG) signed a strategic agreement on comprehensively deepening cooperation in Qingdao, Shandong province, on March 9.

Based on the agreement, both groups plan to share mutual advantages, enhance the capability of resource allocation and collaborative innovation, and accelerate the construction of world-class sea ports and clusters for the high-quality development of the regional economy.

"The two ports have maintained close cooperation and friendly exchanges for a long time, and have great potential in smart green port construction, supply chain finance and other fields," said Huo Gaoyuan, chairman of SPG.

According to Huo, SPG aims to build world-class port clusters and accelerate its transformation from a single port operator to a first-class comprehensive supply chain service provider based on the port.

"Next, we hope that the two sides can carry out more exchanges and cooperation in business coordination, and accelerate the construction of world-class sea ports," Huo added.

"As a State-owned enterprise at the provincial level, HPG fully promotes the development of the container, shipping and foreign trade economy," said Cao ziyu, chairman of HPG.

"Since the establishment of SPG, it has witnessed great growth momentum, and has almost met the goal of becoming a shipping hub center in Northeast Asia. HPG hopes to further deepen cooperation with SPG and jointly promote Hebei enterprises to achieve the maximum benefit when running businesses overseas," Cao added.
Source: SPG
The opinions expressed herein are the author's and not necessarily those of The Xinde Marine News.
Please Contact Us at: