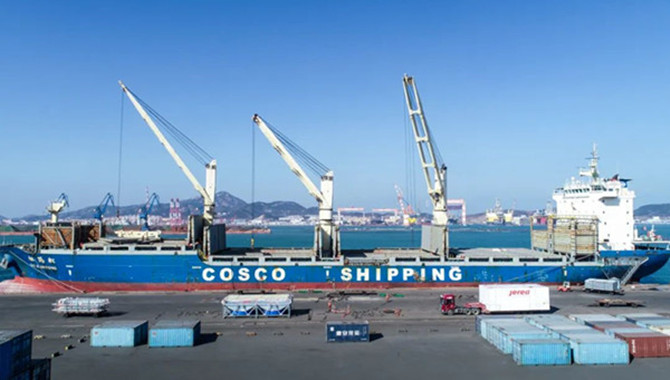 A vessel carrying a large volume of super-large oil equipment pieces departed from Yantai Port in East China's Shandong province bound for Kuwait on Feb 24.

Yantai Port, with its professional cargo handling capacity and high-quality and efficient logistics service, offers a fast and convenient shipping lane for products made in China. The port is a subsidiary of Shandong Port Group (SPG).

During the three years or so since its establishment, Yantai Port has seized new opportunities presented by the high-quality development of the Belt and Road Initiative (BRI) and the effective implementation of the Regional Comprehensive Economic Partnership, and made continuous efforts to accelerate the construction of a multimodal transport system.

Currently, the port has opened a number of direct sea routes to the Middle East, Africa, Southeast Asia, South America, and Europe. Official data show that in 2022, the annual shipping volume of the Chinese-African lines exceeded 1.8 million metric tons, and that of Southeast Asian lines exceeded 1.5 million tons, both of which have helped stabilize the country's industry and supply chains and foreign trade.

In recent years, the port has made great efforts to develop a two-way logistics channel between China and Africa. Official data show that the delivery volume of the Chinese-African lines at Yantai Port has witnessed a huge growth this year. Currently, Yantai Port is the largest trade port that facilitates China-Africa trade in China, and an important part of the BRI.
Source: SPG
The opinions expressed herein are the author's and not necessarily those of The Xinde Marine News.
Please Contact Us at: