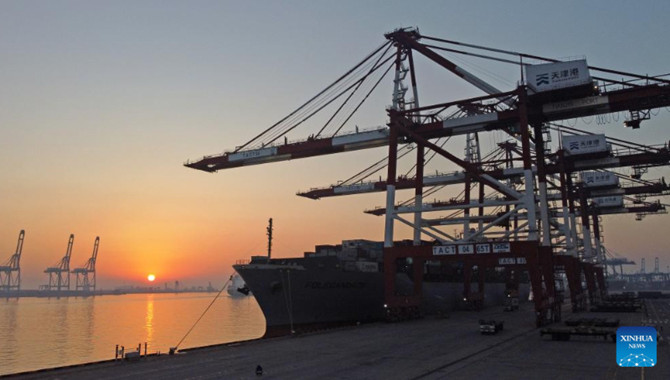 The container throughput volume of north China's Tianjin Port exceeded 21 million twenty-foot equivalent units (TEUs) in 2022, with an average annual growth rate of 6.9 percent over the past five years, local authorities said Wednesday.
The port's container throughput is expected to reach 21.8 million TEUs in 2023, Zhang Gong, mayor of Tianjin, said when delivering the government work report at the local legislative session recently.
Ports are a barometer of economic development. Tianjin Port, on the coast of the Bohai Sea, is a pivotal shipping outlet for the Beijing-Tianjin-Hebei region.
Zhang said the city would spare no effort to build Tianjin Port into a world-class intelligent and green port.
He added efforts will be made to improve customs clearance facilitation, port supervision service, and development of industries, such as high-end port and shipping services, the marine economy, and the cruise economy.
Tianjin Port's container shipping routes increased to 140 last year, said the work report.
"In 2023, we will take the initiative to promote the deep integration and overall development of the port, industries, and the city to serve the construction of the core zone of international shipping in northern China," said Chu Bin, chairman of the board of the Tianjin Port (Group) Co.
Source: Xinhua
The opinions expressed herein are the author's and not necessarily those of The Xinde Marine News.
Please Contact Us at: