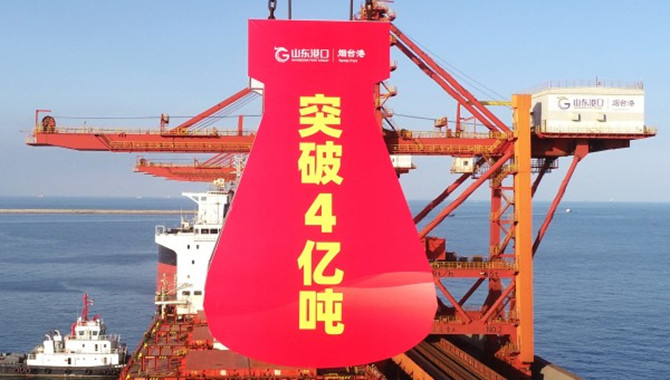 Yantai Port, a subsidiary of Shandong Port Group (SPG), the world's largest port conglomerate in terms of cargo capacity, reported huge growth amid the COVID-19 pandemic and the rapid changes in the global economic environment, according to official data released by the port group on Dec 20.
As of Dec 16, the cargo handling capacity of Yantai Port had exceeded 400 million metric tons, and its container throughput hit four million TEUs, or 20-foot equivalent units, increasing by 36.2 percent and 33.9 percent, respectively, compared to three years ago.
Zheng Deyan, mayor of Yantai, said that Yantai Port has driven the city's development and prosperity. This March, the local government released a three-year action plan to develop the port into a world-class and modern port.
Zheng also expressed his hope that SPG will give full support to Yantai Port's development, and help the city drive the integration of the port and the city.
Liu Zhongguo, deputy Party secretary of SPG, said that Yantai was included in the 2022 national list of logistics hub construction, and is the only city in Shandong province on the list.
SPG will seize the historical opportunity and invest more than 50 billion yuan ($7.16 billion) in Yantai during the 14th Five-Year Plan period (2021-25), and help build the city into an integrated port, industry and city model.
Yantai Port was opened to the outside world in 1861, and during the past 161 years, the port has made remarkable breakthroughs thanks to the continuous efforts of the local government and SPG.
The port plans to leverage its advantages to foster distinctive businesses such as commercial vehicles, China-Africa trade, wind power, and liquefied natural gas to achieve high-quality development.
Source: SPG
The opinions expressed herein are the author's and not necessarily those of The Xinde Marine News.
Please Contact Us at: