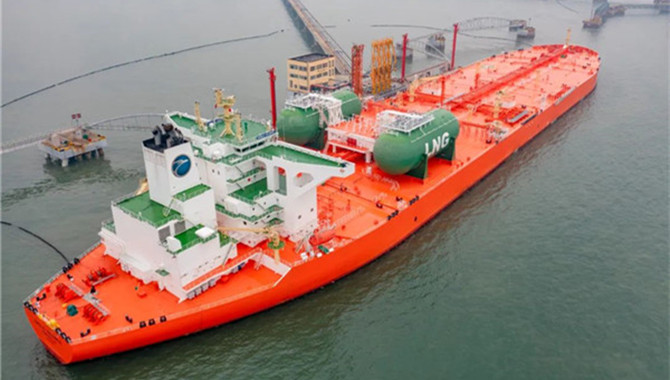 [Photo/WeChat account: Shandong-Port]
The EAGLE VALENCE, a large crude carrier (VLCC) powered by the liquefied natural gas (LNG), successfully completed unloading and disembarking at berth 90 at Qingdao Port on April 7, marking the first successful unloading of a VLCC powered by LNG at Qingdao Port of Shandong Port Group.

The EAGLE VALENCE is one of the first VLCCs in the world, equipped with a C-type LNG fuel tank and a high-pressure natural gas diesel engine LNG fuel supply system. Its carbon dioxide emissions have been reduced by about 20 percent, nitrogen oxide emissions by 85 percent, and sulfur oxide emissions by 99 percent compared to traditional VLCCs, which meets the emission requirements of the International Maritime Organization and the 2020 sulfur limit regulations.

In recent years, Qingdao Port has focused on the construction of a green port, strengthened the transformation of transportation modes, and promoted the transformation of old growth drivers into new ones in Shandong province. In addition, it has introduced and applied new technologies for volatile organic compounds source control, improved the linkage mechanism of environmental detection indicators and optimized the hardware capabilities of joint prevention and control of environmental events with neighboring enterprises.

At the same time, the oil port company is promoting the bonded LNG fuel refueling business for international navigation ships, continuously improving the comprehensive service function of Shandong Port, laying the foundation for attracting new power ships to dock at Qingdao Port and constructing the Northeast Asia International Shipping Hub Center.
Source:
Shandong Port Group
The opinions expressed herein are the author's and not necessarily those of The Xinde Marine News.
Please Contact Us at: