COSCO SHIPPING has been actively answering the call for green low-carbon development and following the new development trend of green, low-carbon and intelligent container shipping by making continuous efforts to build a world-class integrated logistics service and supply chain service ecosystem.

Build Green Fleets with Innovative Ideas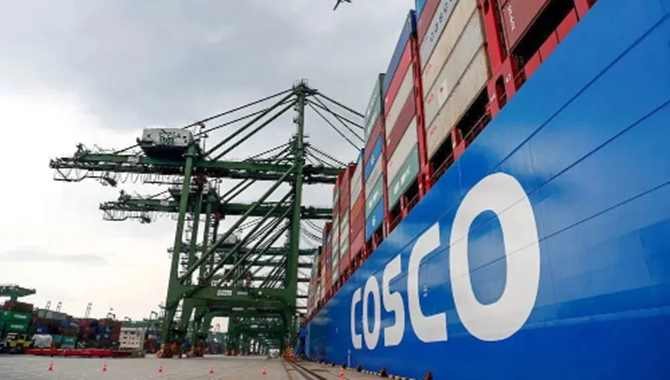 COSCO SHIPPING Holdings placed an order of twelve 24,000-TEU methanol dual-fuel powered container vessels, which will all adopt advanced green methanol dual-fuel technology and integrate multiple energy-saving and emission reduction technologies in ship design and shipbuilding. Compared with traditional marine fuel, methanol is characterized by its low PM emissions and contains no NOx and sulfur.
COSCO SHIPPING Energy has formulated medium and long-term scientific environment management schemes, with a focus on improving the environment management system and developing eco-friendly shipping routes in order to achieve "zero pollution, high energy efficiency and low emission", and maximally reduce the impact of marine transportation on the sea, atmosphere and land environment.
Smart Terminal Equipped with Photovoltaic Devices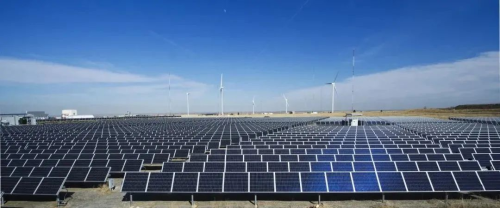 As the first 5G smart terminal in China's inland waterways, CSP Wuhan Terminal has introduced and promoted the use of distributed photovoltaic power generation technology to optimize the energy mix of the terminal area and reduce carbon emissions. Through the distributed photovoltaic power facilities built on the roofs of the terminal buildings, it has managed to advance its green transformation and helped protect the Yangtze River through green development.

The 2.35MW distributed photovoltaic power project at Hainan's Yangpu International Container Terminal also involves the construction of distributed photovoltaic power stations on the roofs of the terminal buildings, with a designed average annual power generation capacity of 2.76 million KWH and an average annual carbon reduction of 1,454 tons.

With the goal of energy conservation, energy consumption reduction and pollution reduction, COSCO SHIPPING Heavy Industry has made vigorous efforts to build itself into a garden-style factory through management and technology under the modern production mode that takes into consideration both the environmental impact and resource efficiency. Nantong COSCO KHI Ship Engineering Co., Ltd. (NACKS), a subsidiary of COSCO SHIPPING Heavy Industry, was listed into the first batch of green factories in Jiangsu Province in 2020; Dalian COSCO KHI Ship Engineering Co., Ltd. (DACKS) fully activated its 240,000-KWH photovoltaic power generation project, carried out environment-friendly paint tests on vessels, and introduced regenerative thermal oxidation furnace to reduce pollutant emissions and realize green shipbuilding; COSCO SHIPPING Heavy Industry Zhoushan has strictly managed the waste water, exhaust gas, factory noise and solid waste, while comprehensively promoting industrial waste classification to reduce the total amount of industrial waste generated, improve resource utilization and reduce environmental pollution.

Accelerate Green Container Manufacturing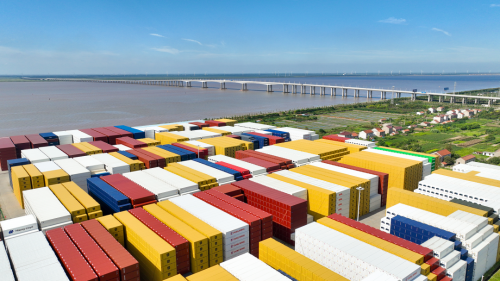 Shanghai Universal Logistics Equipment Co., Ltd., a subsidiary of COSCO SHIPPING Development, has been promoting low-carbon development in pursuit of "green container manufacturing". By investing in the production line equipment, it has completed the "oil-to-water" transformation of the paint line for non-operating reefers. Relying on its increased exploration in green container manufacturing, the company has completed the research and development of 700-TEU marine container-type mobile power source, CATL battery box and SUNGROW power box. Some of the achievements have been put into mass production and delivered to customers.
The First Carbon Neutral Service Station on the Yangtze River

China Marine Bunker (PetroChina) Nanjing (CHIMBUSCO Nanjing) is actively building a green integrated service station on the Yangtze River to provide green, environmentally friendly, high-quality fuel supply and extended services for ships. The station is located at No. 126 Heifu Water Area of Longtan Waterway in the Jiangsu section of the Yangtze River, surrounded by Nanjing, Zhenjiang and Yangzhou cities, as an important distribution hub for dry bulk cargos and containers on the Yangtze River.
Source: COSCO SHIPPING
The opinions expressed herein are the author's and not necessarily those of The Xinde Marine News.
Please Contact Us at: