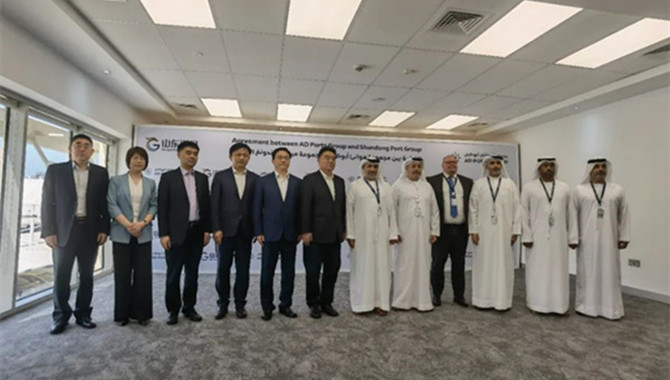 Shandong Port Group (SPG), the world's largest port conglomerate by cargo capacity, signed a strategic cooperation agreement with Abu Dhabi Ports Company on Feb 28.

According to the agreement, both sides will carry out in-depth cooperation in areas, such as the layout of shipping networks, international business expansion, and capital cooperation, in order to achieve mutual benefits and win-win results.

SPG and Abu Dhabi Ports established cooperation ties in 2016. In 2021, Shandong Port Overseas Development Group cooperated with Abu Dhabi Ports Company in marine logistics, as well as launched two shipping routes linking Qingdao and Abu Dhabi, which have offered great convenience to Chinese enterprises to go aboard and expand their overseas markets.

The delegation from SPG also paid a visit to the container terminal built by China COSCO Shipping at Abu Dhabi Port. Representatives of the port spoke highly of the operation management team dispatched by SPG to COSCO Shipping Container Terminal in Abu Dhabi, noting that the cooperation between the two sides will be a long-term and sustainable success.
Source: SPG
The opinions expressed herein are the author's and not necessarily those of The Xinde Marine News.
Please Contact Us at: