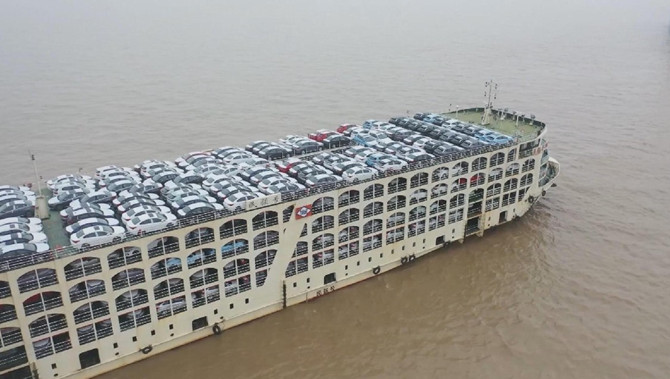 China's largest roll-on roll-off automobile terminal has witnessed the strong growth trend of the country's automobile exports this year.
Chinese car manufacturers exported 1.494 million vehicles in the first four months, up 76.5 percent year on year, according to the Ministry of Commerce.
At the Haitong International Automotive Terminal in Shanghai's Waigaoqiao Port Area, the biggest roll-on roll-off automobile terminal in China, more than 5,000 vehicles are loaded onto ro-ro ships everyday on average since the beginning of this year.
"Our terminal has been running at full capacity almost every day this year. To ensure that these exported automobiles can be shipped to destinations across the globe as scheduled, we need more than 200 drivers almost every day to load the vehicles onto the roll-on roll-off vessels. Such a logistics cycle has been continuing non-stop," said Lin Jie, a manager of the operational department of Shanghai Haitong International Automotive Terminal.
Lin said the ro-ro terminal has also seen surge in exports of new-energy vehicles.
"The new-energy vehicles exported from China couldn't even fill 10 percent of the capacity of each ship in previous years. Now I believe China-manufactured new-energy vehicles possibly make up about 30 percent of our terminal's exports this year," said Lin.
In the first four months this year, Chinese enterprises exported 348,000 new-energy vehicles, up 1.7 times year on year, according to the commerce ministry.
Koga Shuji, a captain of NYK Multimodal Transportation (Shanghai) Co., Ltd., said China's auto export market has expanded from countries with a weak automobile industry like Mexico and Indonesia towards Australia, developed countries in Europe, as well as countries along the Belt and Road.
"Previously about 10 ships of our company berthed at Chinese ports every month (to transport exported autos), now the number has risen to around 20. The volume of China-produced cars exported to Europe through our shipping routes has increased by over 50 percent. There have also been obvious increases in China's vehicle exports through our shipping routes to the Middle East, Australia, New Zealand, South America, North America, and Thailand. Our company has ordered 20 new ships which will largely be used for exports of autos from China," said Koga.
According to statistics of the Shanghai Customs, 160,000 vehicles were exported from ports in Shanghai in April, 40,000 more than in March.
In April, automobile exports from ports in Shanghai to the European Union, Australia and the United Kingdom grew by 176 percent, 68 percent and 34 percent respectively compared with the numbers in March.
Source:
CCTV
The opinions expressed herein are the author's and not necessarily those of The Xinde Marine News.
Please Contact Us at: