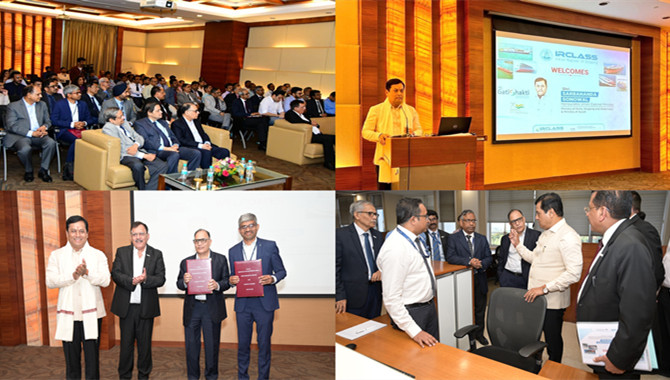 Shri Sarbananda Sonowal, Union Cabinet Minister for Ports Shipping & Waterways and Minister of Ayush visited
Indian Register of Shipping
Head Office at Mumbai on 25th May 2023 and reviewed the work being undertaken by the organisation.
Hon'ble Minister lauded the green initiatives being taken by IRS in reducing GHG emissions towards meeting IMO climate goals. He was interested in knowing the environmental impact of shipping and how IRS is supporting design and operational methodologies using advanced technologies.
During his visit, Hon'ble Minister also interacted with the Rule and Research & Development team of IRS to understand various aspects of research projects. He spent time with the research team to understand topics like structural strength of marine assets, wind propulsion and the impact of underwater radiated noise on marine life.
In his address to IRS, he laid great stress on technological advancement and adoption of technology, adding a caveat that such advancement should not be at the cost of ecology and environment. He congratulated IRS on achieving global recognition and strong fleet growth and urged IRS to take a greater role in the development of maritime ecosystems in the country.
He underscored the significance of Prime Minister Shri Narendra Modi's vision of Amrit Kaal which lays out a new roadmap for India in the next 25 years and emphasised that IRS had the potential to be a leading global organisation. He further stated that the role of IRS will be integral towards achieving the Maritime India Vision 2030.
He exhorted IRS employees to follow the guidance of the Prime Minister to boost physical and mental well-being and encouraged everyone to actively participate in International Yoga Day on 21st June 2023.
In his august presence, IRS and Dassault Systèmes exchanged the contract documents for IRS' digital transformation and boosting operational efficiency.
Mr. Arun Sharma, Executive Chairman said, "IRS is honoured to host Honourable Minister Shri Sarbananda Sonowal at our Head Office. In line with the call given by the Hon'ble Minster, IRS will continue to focus on its key role in environment protection and strive to strengthen the maritime ecosystem to make India a major maritime nation."
The opinions expressed herein are the author's and not necessarily those of The Xinde Marine News.
Please Contact Us at: