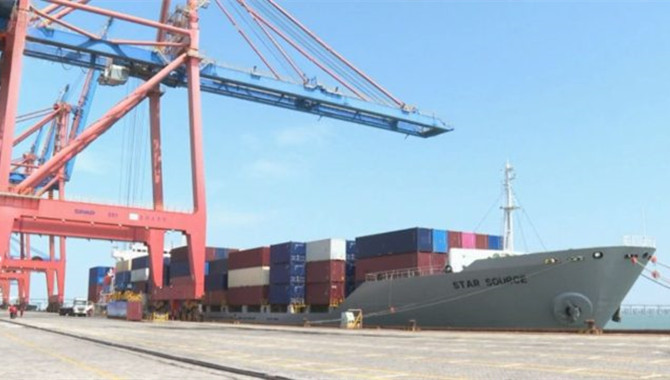 Source: Quanzhou Municipal People's Government

The Chinese port city of Quanzhou has launched its first container shipping link to the Persian Gulf, with newcomer liner Global Field Line (GFL) starting a Qingdao-Busan-Ningbo-Quanzhou (Shihu)-Nansha-Jebel Ali service on 25 May.

The service uses a chartered 1998-built ship, the 1,510 TEU Star Source, which left Qingdao on 17 May and arrived at Quanzhou on 25 May.

Star Source was loaded with 66 20-foot containers carrying apparel, shoes and aggregates when it departed Quanzhou's Shihu port.

Quanzhou has boosted trade links with the Middle East in recent years, importing oil and natural gas from the latter and sending manufactured goods to the region. In 2022, US$800 million of goods were traded between Quanzhou and Jebel Ali, UAE.

Quanzhou's municipal government officials said there is a possibility of extending the route to Russia.

"We hope to reach out to other important countries in the Middle East. At the same time, extending the service to Russia will create a second shipping logistics channel between Quanzhou and Russia. This will deepen the economic and trade cooperation between Quanzhou and countries along the 'Belt and Road'," said government officials.

Elaborating, GFL general manager Yu Yang, who is one of the company's shareholders, disclosed that the service has a concurrent second leg, involving another vessel travelling from Dubai to Russia's St Petersburg port.

Yu noted, "The first leg will be from Quanzhou to Dubai. The second leg is from Dubai to St Petersburg. The route design is just like the Maritime Silk Road in the Song and Yuan dynasties 1,000 years ago. We hope that through this route, we can help local customers in Quanzhou, especially Russian customers and Middle East customers, to export directly and greatly reduce their costs."

Incorporated in Hong Kong in March 2022, GFL is owned by four Chinese nationals, Feng Chun (24%), Yu Yang (22%), Hu Wei (22%), Song Xiaoning (22%) and Shu Haijing (10%), all of whom previously worked for other Chinese container shipping companies. GFL is among opportunistic newcomer liners eyeing a slice of the Russian market, and already operates nine other ships on services linking Russia with Asia, India and the Persian Gulf.

As the starting point of ancient Maritime Silk Road, Quanzhou, in Southeast China's Fujian province is one of the fastest growing areas in China and this new service hopes to develop the Belt and Road initiative.
Source:
Container News
The opinions expressed herein are the author's and not necessarily those of The Xinde Marine News.
Please Contact Us at: