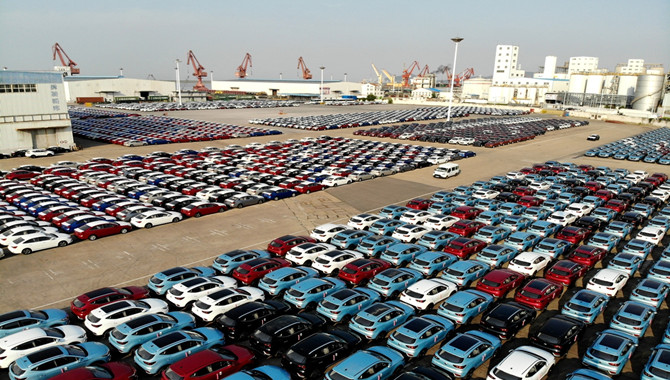 China's auto vehicle exports doubled to a record 2.02 million in 2021, breaching the 2-million-mark for the first time, data released by the Ministry of Industry and Information Technology (MIIT) showed on Wednesday.
The figure underscored the resilient and complete Chinese automotive industry chain, which can stabilize global supply chains amid the pandemic, help the international market and increase the competitiveness of homegrown auto brands.
Auto exports have been robust since April, setting a string of new records, and the annual export volume in 2021 was a breakthrough for exports, which hovered at over 1 million units for many years, the China Association of Automobile Manufacturers (CAAM) said on Wednesday.
"Thanks to new-energy vehicles (NEVs) and the export market, the market share of Chinese auto brands reached 44 percent at home, nearing the best level in history," the CAAM said.
Vehicle production and sales increased 3.4 percent and 3.8 percent to 26.08 million and 26.28 million last year, respectively, industry data showed, ending a three-year falling streak.
Total output and sales have led the world for 13 consecutive years, cementing China's position as a global auto production power.
"In the first quarter, China's auto market showed a rapid recovery due to a low base effect, but the growth slowed in the second quarter. The auto semiconductors shortage caused a drastic drop in car production in the third quarter, while sales in the fourth quarter beat expectations," said Fu Bingfeng, the executive vice president and secretary-general of the CAAM.
Another highlight was NEV sales, which grew 1.6 times to hit 3.52 million in 2021, ranking No.1 in the world for the seventh year in a row, according to the MIIT.
The MIIT said that it will make an all-out effort to stabilize the sound development of the country's auto industry, promote the development of NEVs and intelligent internet-connected vehicles, and elevate the stability and competitiveness of the industrial chain.
Source:
Global Times
The opinions expressed herein are the author's and not necessarily those of The Xinde Marine News.
Please Contact Us at: