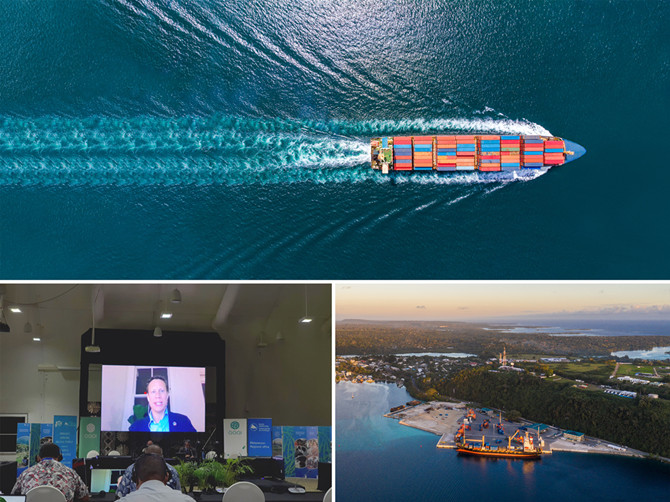 An update on progress towards the decarbonization of international maritime transport was reported to high-level officials from government Energy and Transport departments in the Pacific region at a workshop held in Port Vila, Vanuatu. It was the latest in a
series of events
held or supported by IMO as part of the transition towards greener and more sustainable shipping, in line with the IMO's strategy for reducing Greenhouse Gas (GHG) emissions from shipping.
The workshop took place on the first day and in the margins of the
Fifth Pacific Regional Energy and Transport Ministers' Meeting
(5th PRETMM, 8-12 May). The IMO Secretariat and the Vice-Chair of the Marine Environment Committee (MEPC), Hanqiang Tan (Singapore), updated officials from Pacific Small Island Developing States (SIDS) on progress in negotiations towards the adoption of a revised IMO GHG Strategy.
This is a key year for IMO as it will update its 2018 Initial GHG Strategy during the MEPC's 80th session (3-7 July 2023).

MEPC, which acts as the senior technical body on marine pollution related matters, is further developing mid-term GHG reduction measures that will assist in the implementation of the IMO GHG Strategy. IMO's regulatory framework is a key driver for innovation and cooperation within the maritime value chain. (Read more
here
about IMO's work to reduce GHG emissions from ships.)
IMO's Head of Air Pollution and Energy Efficiency, Mr. Roel Hoenders, told the workshop:

"IMO's Pacific Islands Member States have a key role in these discussions - as flag States, as coastal States and as States heavily affected by climate change, while having only marginally contributed to global carbon emissions".

Recent capacity-building initiatives in the Pacific region undertaken by IMO and Singapore were highlighted as part of the Organization's ongoing work to support developing countries, in particular SIDS, in transitioning to a low-carbon future. The workshop was also told of the latest developments under the
IMO GHG TC Trust Fund-
financed Study to improve the availability of maritime transport costs data in the Pacific region, and the outcome of the
regional roundtable
which took place in Fiji in February 2023.
The workshop was co-organized by the Pacific Community (SPC) and IMO. It was funded through the Organization's Integrated Technical Cooperation Programme (ITCP) in support of the 2023 World Maritime theme '
MARPOL at 50 – Our commitment goes on
'.
Source:
IMO
The opinions expressed herein are the author's and not necessarily those of The Xinde Marine News.
Please Contact Us at: