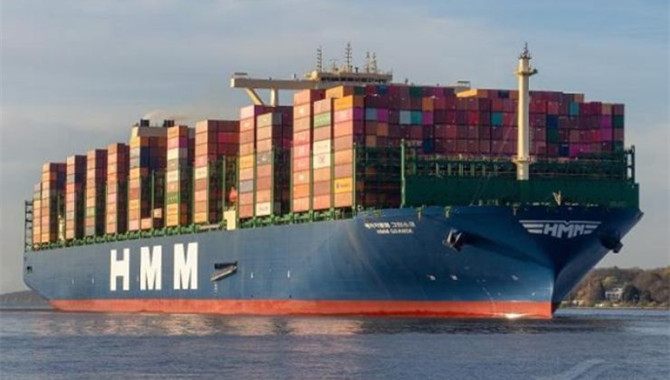 Korea's top container shipper HMM on Tuesday signed a 1.41 trillion-won ($1.1 billion) deal with two local shipbuilders to build nine methanol-propelled container ships as part of its push to go carbon neutral.
Under the deal, Hyundai Samho Heavy Industries, an affiliate of Korea Shipbuilding Offshore Engineering (KSOE), will construct seven 9,000 twenty-foot equivalent unit (TEU) container vessels for the shipping company.
Another local shipyard, HJ Shipbuilding Construction, will construct the remaining two eco-friendly ships.
The methanol-fueled container vessels will be delivered to HMM in two stages over two years beginning in 2025.
It marks the first time that HMM has placed an order for eco-friendly ships.
In July last year, HMM announced a mid- to long-term strategy to hone the competitiveness of its eco-friendly fleet as part of efforts to get in line with the global carbon neutral trend.
Methanol-powered vessels have been drawing attention from shipowners as they produce less sulfur oxide and other pollutants than existing ship oil.
HMM said it will operate those methanol-fueled vessels on routes to South America and India, as well as those to North America.
HMM also said it has signed preliminary deals with five foreign and domestic energy companies, including European Energy, on the production and supply of methanol.
KSOE, a subholding company of shipbuilding, oil refining and machinery conglomerate HD Hyundai, has three subsidiaries under its wing ― Hyundai Heavy Industries, Hyundai Mipo Dockyard and Hyundai Samho Heavy Industries.
Source: The Korea Times
The opinions expressed herein are the author's and not necessarily those of The Xinde Marine News.
Please Contact Us at: