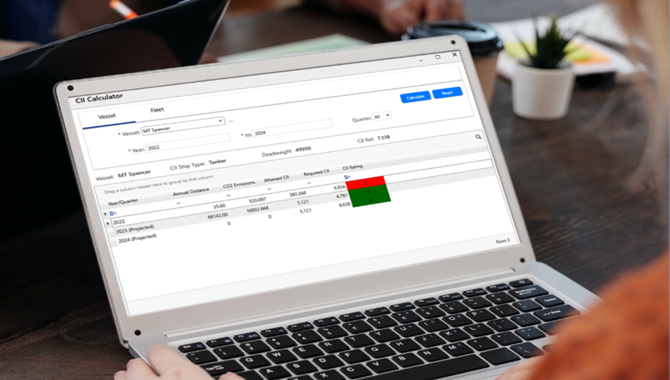 As part of an enhanced BASSnet 2.11 Service Pack 2 release, BASS Software has launched a brand new Carbon Intensity Indicator (CII) calculator. The calculator will assist ship owners and managers to better prepare for new CII requirements which came into force on January 1st, 2023.

The Carbon Intensity Indicator, or CII, measures how efficiently a ship transports goods or passengers in relation to carbon emitted. Now, users of the advanced BASSnet Fleet Management System will be able to calculate their vessels' latest CII values by using data recorded within BASSnet's Electronic Logs and Vessel Particulars sub modules.

Here are benefits of the new BASSnet CII Calculator:

Easily Calculate vessels attained CII and corresponding rating (A to E) based on the IMO resolutions MEPC.352(78), MEPC.353(78) & MEPC.354(78).

Visualize and monitor CII rating on a fleet and vessel level.

Calculations derived directly from data within the electronic BASSnet Ship Log.

View and calculate future projections of CII rating.

Export CII Calculations into protected external format.

"At BASS, we have specifically designed eco-friendly solutions that bring value," says Per Steinar Upsaker, CEO & Managing Director at BASS Software. "Our new CII Calculator will enable easy and effective carbon monitoring. Using the calculator, ship owners and managers can also evaluate current CII rankings for vessels in their fleet and proceed to take the necessary steps to comply with upcoming regulatory requirements."

BASSnet's CII Calculator is another great addition to the system's powerful Environmental Management features. Indeed, BASSnet already enables users to instantly generate EU MRV and IMO DCS regulatory reports based on electronic log entries. It's also easy to create, manage and report hazardous materials in an Inventory of Hazardous Materials (IHM).

The integrated ERP software also lets users generate detailed and summarised emissions data for trend analysis, including for Oil and Oily Mixture, Garbage, CO2, NOx, SOx, EEOI, Ozone Depleting Substances and Sewage Discharge.

It's essential to manage carbon emissions to reduce maritime pollution. The Carbon Intensity Indicator (CII) requirements are an important step forward. BASS, the trusted maritime ERP software provider, is certainly leading at the forefront of maritime technology to aid their customers with the innovative new BASSnet CII Calculator.

Source: BASSnet
The opinions expressed herein are the author's and not necessarily those of The Xinde Marine News.
Please Contact Us at: