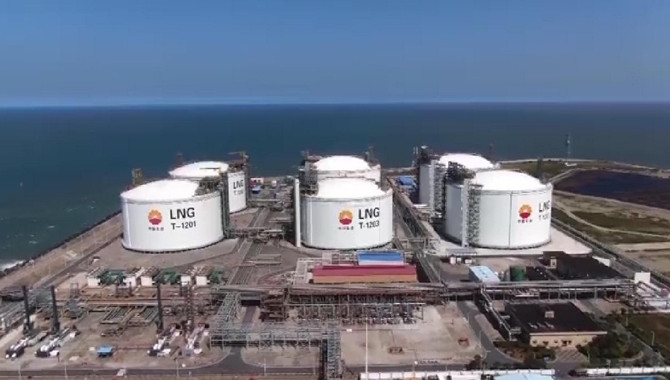 China's liquefied natural gas (LNG) carrier manufacturers have ramped up vessel supplies to meet the growing demand from global clients.
As the shortage of natural gas in Europe continues to intensify, the demand for LNG carriers in the international market rose sharply in 2022.
The country's new orders for LNG carriers in 2022 increased more than four times year on year, accounting for one third of the global market share.
The average delivery time for an LNG carrier is as long as 30-50 months. As the first Chinese shipbuilder to acquire the technology for building LNG ships, Hudong-Zhonghua Shipbuilding (Group) Co., Ltd in east China's Shanghai now holds orders for over 30 LNG vessels, which are already lined up to 2028.
"Our entire LNG carrier production capacity will improve significantly through this project, increasing from the current five to six LNG vessels a year to 10 or even 12," said Shen Hua, director of the Engineering Department of Hudong-Zhonghua Shipbuilding (Group) Co., Ltd.
"In 2022, we received 38 LNG carrier orders, which is a historical record, accounting for more than 20 percent of the world's total, ranking second in the global shipyards," said Song Wei, chief engineer of the shipbuilding company.
According to the China Association of Shipbuilding Industry, the country's market share has grown from 12 percent in 2021 to over 30 percent. Among them, large LNG carriers made a major breakthrough, taking orders for 55 LNG carriers of 174,000 cubic meters.
"The LNG carrier orders we have received are mostly from overseas oil companies, such as the Abu Dhabi National Oil Company (ADNOC). I believe there will be a large number of domestic orders this year," said Lin Qingshan, vice president of China State Shipbuilding Corp's Jiangnan Shipyard Group in Shanghai.
Source: CCTV
The opinions expressed herein are the author's and not necessarily those of The Xinde Marine News.
Please Contact Us at: