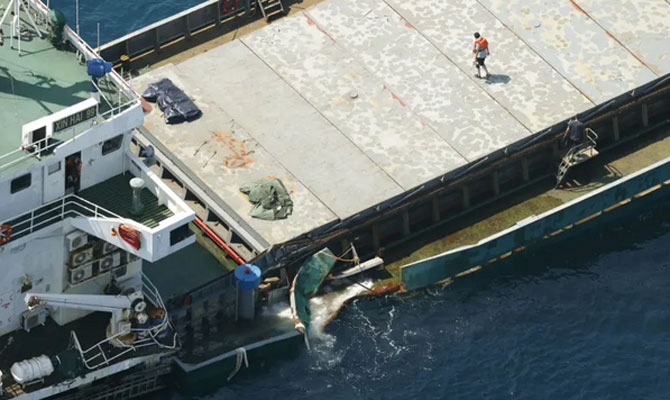 Chemical tanker RYOSHIN MARU collided with Chinese general cargo ship XIN HAI 99 at around 0200 Tokyo time Aug 20 some 2 nm off Kushimoto, Wakayama Prefecture, southeast Honshu. Ships were sailing in opposite directions, tanker bow struck cargo ship in starboard superstructure area, hull was breached, engine room flooded, XIN HAI 99 developed aft tilt and starboard list. XIN HAI 99 either managed under own power, or was towed/escorted, into a bay off Shinomisaki, probably intentionally grounded to avoid sinking. Fuel leak reported, CG is responding, to curb the leak.
XIN HAI 99 was sailing with cargo of steel Kawasaki to Wakamatsu, tanker was ballasting from Kobe to Kashima. Tanker was anchored off Wakayama coast, for inspection and investigation, her bow sustained serious damages.
Source: FleetMon
The opinions expressed herein are the author's and not necessarily those of The Xinde Marine News.
Please Contact Us at: